Written by - April 14, 2021
Last month, our team had the opportunity to virtually attend an industry buyers event, which gave us an inside look at the newest and most innovative customizable products available.
We pored over the latest and greatest our industry had to offer and selected our top 6 favorite products that met our criteria of being timely and relevant, versatile and original. An extra bonus is that all of these products genuinely make life easier.
Take a peek below and let us know: which is your favorite?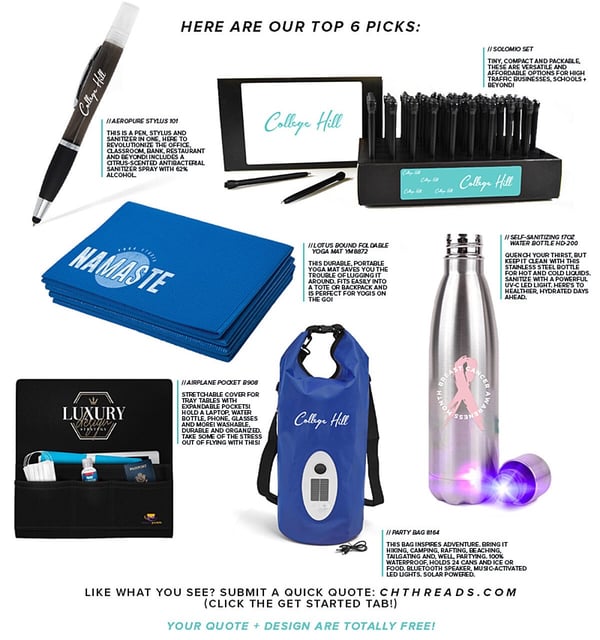 1 Aeropure Stylus [101]
It's a pen, stylus and sanitizer in one, here to revolutionize communal settings. It includes a citrus-scented antibacterial sanitizer spray with 62% alcohol.
Picture this for:
✗ Banks
✗ Restaurants
✗ Bars + breweries
✗ Offices
✗ Classrooms
Tiny, compact and packable, these are versatile and affordable options for high traffic businesses and spaces. Get them individually wrapped or as a set!
Picture this for:
✗ K-12 schools
✗ College administration offices
✗ Voting centers
✗ Healthcare settings
3 Lotus Bound Foldable Yoga Mat [YM8872]
This durable, portable yoga mat saves you the trouble of lugging it around. Fits easily into a tote or backpack. Perfect for on-the-go yogis!
Picture this for:
✗ Yoga studios
✗ Gyms with group classes
✗ Yoga clubs at colleges
✗ Health and wellness groups
✗ Fitness teams
4 Self-Sanitizing 17 oz. Water Bottle [HD-200]
Quench your thirst, but keep it clean with this stainless steel bottle for hot and cold liquids. Sanitize with a powerful UV-C LED light. Here's to healthier, hydrated days ahead.
Picture this for:
✗ Gyms
✗ Staff gifts
✗ Coffee shops
✗ Sports teams
✗ Fitness teams
5 Airplane Pocket [B908]
Stretchable cover for tray tables with expandable pockets! Hold a laptop, water bottle, phone, glasses and more. Washable, durable and organized to take some of the stress out of flying.
Picture this for:
✗ Staff gifts
✗ Conference giveaways
✗ Tech teams
✗ Businesses with traveling employees
6 Party Bag [8164]
This bag inspires adventure. Bring it hiking, camping, rafting, beaching, tailgating and partying (when it's safe to party)! 100% waterproof. Holds 24 cans and ice - or food! Bluetooth speaker, music-activated LED lights, solar powered.
Picture this for:
✗ Staff gifts
✗ Outdoors outfitters
✗ Ski and hiking organizations
✗ Fitness teams
✗ Fundraiser prizes
Looking for inspiration for your next custom project? Check out our business design gallery or our collegiate design gallery! Discover these products and so much more in our virtual promo closet!
Questions? Email us! info@chthreads.com
Ready to request a free quote and design? Just click here!