Written by - April 28, 2021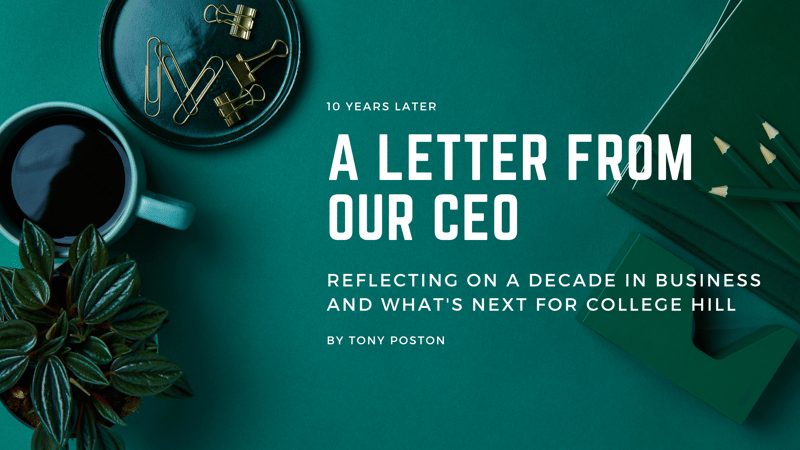 To our friends, family, partners and clients:
A decade ago, I sat down with a few friends for breakfast at
The Cougar Cottage
in Pullman, Washington to talk about creating a custom merchandise company that could better serve university organizations.
Since then, as you might imagine, a lot has changed. April 29, 2021 marks 10 years of College Hill, and I'm feeling really grateful (also, really old).
After all this time, the thing I'm most taken by is that our values now are the same ones we had when we first sat down at that breakfast table (just slightly more refined):
Create a remarkable experience for our clients and team
Serve and do good, supporting our community
Embrace and drive change, continuing to learn and innovate within our industry
Cultivate our team's personal growth
Bring our best everyday, in everything we do
Anyone that has built and nurtured a business can tell you about the great highs and lows that come with it, but I can, without a doubt, say that our team has held true to our values through everything. Adhering to these values has led us to some amazing achievements, like being named one of Inc.'s fastest growing privately held companies in the U.S. at our five year mark in 2016, being named to the list of Best and Brightest places to work, opening offices on both coasts and now, celebrating ten years in business.
I had the opportunity to spend last week in Costa Rica, at the Imiloa Institute for the Live Life Activated Retreat. It's fitting that this chance to meditate and reflect coincided with the ten year anniversary of College Hill.
At this retreat, there were 25 entrepreneurs and creatives from around the world and, being among them, initially, I felt a bit of imposter syndrome. I'm a small business owner from a little town in Washington, so to be surrounded by best-selling authors and wildly imaginative creatives conjured up some serious self-doubt.
That all changed when I started to talk to these people about their values and goals. I was able to loosen up and relax (shout out to yoga and breath work!), and I realized, through these conversations, that when your goals and values align, your higher purpose will come into focus. They reached their level of success because of this. And, while everyone's journey or definition of success is different, because our values do align with our goals, in many ways, we, too, have reached our higher purpose.
For a long time, I didn't know that. I've spent a lot of years talking about scaling this company. I tied success to revenue or head count.
My a-ha moment came from this retreat, and it couldn't have come at a better time. When you love what you do, everything else falls into place. Success is whatever you want it to be, whether that's financial gain, building a community or the satisfaction that comes from being true to your values. Because our values are aligned with what we do every day, I know we're heading in the right direction.
To be perfectly transparent, I started to lose that sense of higher purpose over the years because I feared mediocrity. So much of the modern world is tied to rankings and numbers, not good old fashioned customer service, community and quality. I was terrified of being perceived as a failure if I didn't continue to scale this company at the rapid pace we had in the beginning. Everything I read about entrepreneurship talked about "scaling," and it really had me thinking that the measurement of success was getting as big as you possibly can.
I'm glad we didn't. Small businesses are closer to their customers and, as
Forbes
points out, are more adaptive, with the freedom to be more creative and caring (and with less red tape). I have great admiration for what huge, scaleable businesses have accomplished, but I'm also really happy with what
we
have achieved.
I'm relieved that the imposter syndrome is finally gone. The College Hill team and our clients are remarkable. We have done so many amazing things in the last 10 years - producing tens of thousands of designs and client projects, attending conferences, making memories and, of course, and for this we are most grateful: making it through a pandemic. We're not the biggest company in our industry and that's OK! (BRB, shouting this from the rooftop). We're true to our values, and that's an accomplishment I can hang my hat on.
So, with all of that being said, after a decade of leading College Hill, the time has come for me to pass the torch.
I didn't really need to look far for someone to fill this seat because that person has been here all along. Jen Gangwish, our current vice president and sales manager, will take the helm, transitioning into the CEO role by January 1, 2022.
Is there a person better suited for this role? Absolutely not. I've known Jen for 15 years and know in my heart of hearts that she embodies all of our values completely. Her higher purpose is to lead others, and I can't wait to see what she'll do for this team.
This isn't goodbye, by any means. I'll still be working here alongside Jen, providing support to our team and clients. College Hill will always be a big part of my life, but it's time for me to give my friend and trusted colleague an opportunity to do what she does best. I'm just glad to be along for the ride Jen's about to take us on.
Thank you all for being part of this journey! And, if you're ever in Pullman, Washington, I'd love to have a beer with you at The Coug, where it all began, sometime very soon.
Cheers to 10 years, you guys!
Tony Poston
Founder, College Hill