Written by - November 3, 2020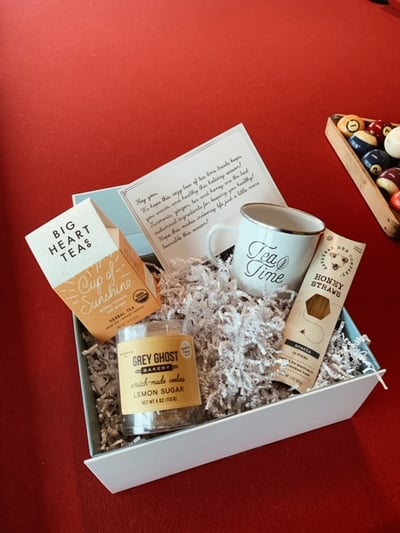 If you're in the market for something different for this year's holiday gift giving, consider customizable treat boxes from College Hill x Batch and Bodega.
We're teaming up with our friends over there to offer up themed boxes, perfect for one-off gifts or holiday gift giving for staff, students, colleagues, teammates, you name it. Customize the card message and brand the box, which comes filled up with small-batch treats. Choose from themes, like "Movie Night, "Speakeasy" and "Tea Time," seen here.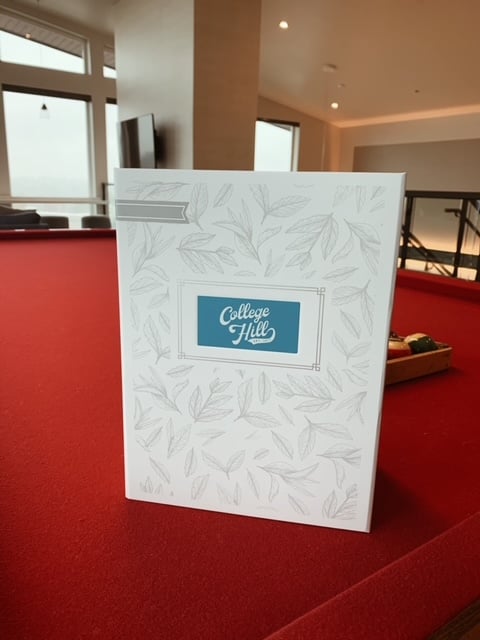 Each box comes with centered label customization, so you can choose from logo placement or a completely custom design that we create in-house.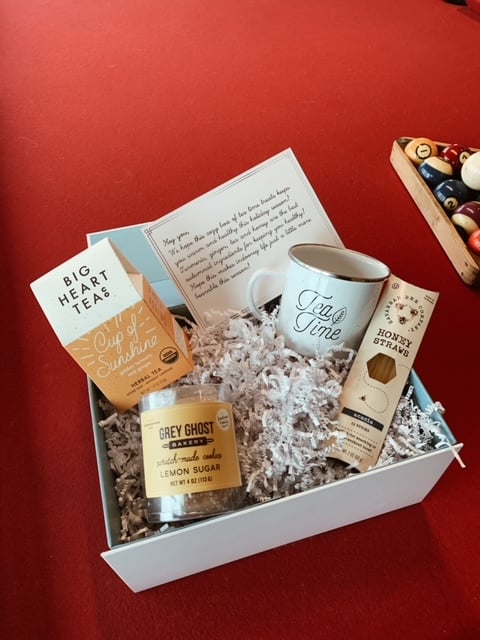 Unbox a sweet surprise, perfect for celebrating any occasion:
✗ Sending a team out to a conference? Consider the "Roadtrip" pack
✗ Saying congrats to colleagues or looking for the perfect "welcome home" gifts for new members? Consider a congratulatory themed box
✗ We love the "Movie Night" and "Tea Time" ones for new home buyers and clients, as well!
Right now, we're in holiday mode, so our absolute favorite is this "Tea Time" box. It's the perfect holiday gift for a chilly, cozy season, especially during a year when so many of us are cooped up inside and feeling anxious. Calm your crew down with soothing tea, delicious and dunk-able cookies, healthy honey sticks and an adorable camper mug to enjoy these goodies inside the home or out in the woods.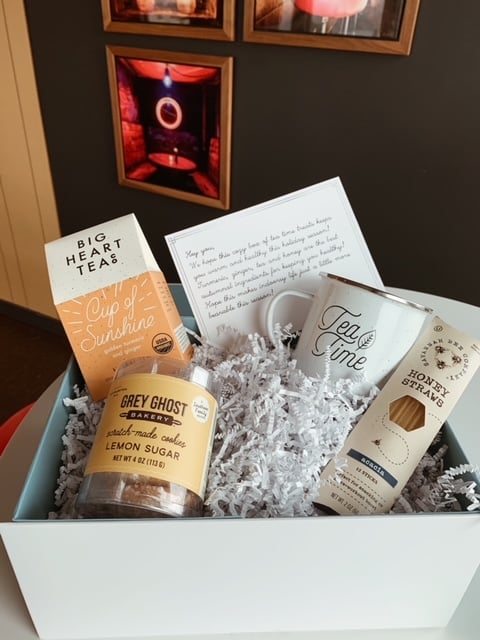 The Tea Time box comes with:
✗ Big Heart Tea Co.'s Cup of Sunshine - a healthy loose leaf tea blend packed with turmeric and ginger, which are great for respiratory health, fighting inflammation and providing warm, soothing comfort (From St. Louis)
✗ Grey Ghost Bakery's homemade lemon sugar cookies - these are unbelievably delicious, light and addictive (From Charleston)
✗ Savannah Bee Company Honey Straws - subtly sweet and perfect for tea, but also for a pick-me-up all on its own! (From Savannah)
✗ Speckled white "Tea Time" camper mug - lightweight and not at all fragile, this adorable mug is perfect for home or on-the-go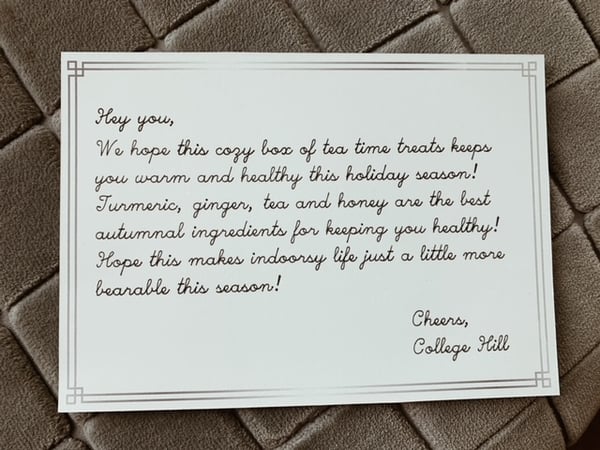 It's hard to pick the best thing about this box, but one of our favorites is the fully customizable note. It comes typed in a cute, neat cursive on a sturdy postcard material and there's a ton of room to craft the perfect message. Send us your own or ask us to create something for you!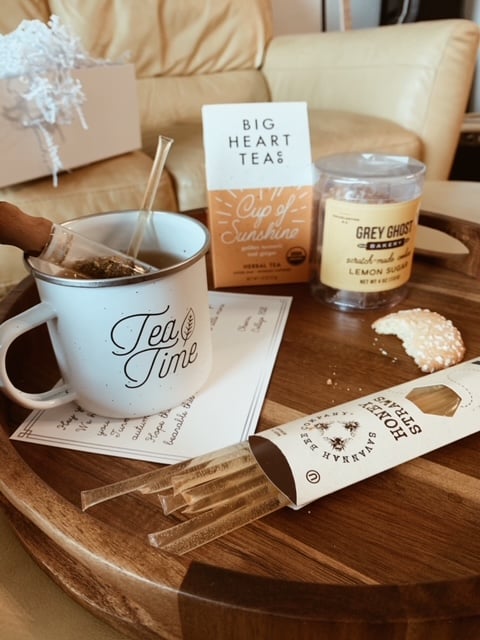 OK, we do know the best part of this box. It's cozying up on the couch with it after a long day! Tea, cookies, honey, a mug to put it all in and good vibes - what more can one ask for this holiday season?
Best of all, this gift is not only showy, but a crowd-pleaser. The tea doesn't contain caffeine and the box prioritizes comfort and well-being. Sure, there's a little sugar in here (hey, it IS the holidays), but it'll leave everyone with a smile and a sense of calm.
Can we get an order started for you? Request a quote and a free design here! You can always visit us at chthreads.com, then click on "Get Started."