Written by - November 6, 2020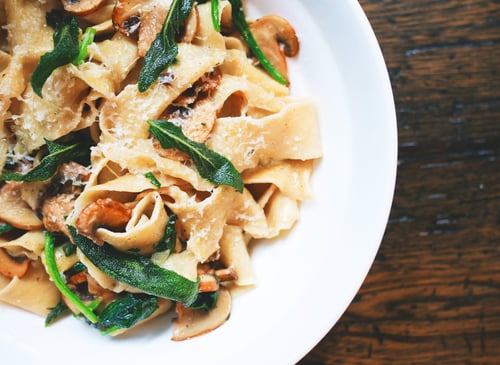 As the semester grinds on, it's easy to start to go back to easy, cheap meals like Top-Ramen and day-old cold pizza. However, with a little planning, it's possible to make delicious fall meals that not only taste good, but stay within your college grocery budget! Here are some of our favorite fall recipes we have been trying!
Farfalle with Spinach, Mushrooms and Caramelized Onions
Who doesn't love a good pasta dish? This one is great because it utilizes simple ingredients that you can use in a plethora of other dishes. Not only is it packed with some important veggies, it is easy to add any protein, like chicken or fish! Check out the full recipe here!
One Pan Roasted Vegetables and Garlic Parmesan Chicken
This is a favorite meal to make during the weeknights. It is so customizable to your liking and it is great if you are into meal-prepping. This recipe uses broccoli, baby red potatoes, and carrots, but you could easily add asparagus or another kind of potato too! Also, did we mention you only need one pan for this, which means easy clean up?! Bonus! Check out the full recipe here!
Beef Stew
Now, this might sound a bit boring, but just hear us out! It is a pretty easy meal to make and it is even easier if you have a small Crock-Pot in your kitchen! Not only is it a hearty meal, if you make a full recipe, it will last you for a couple of meals throughout the week! Nothing says fall more than this home-cooked meal. Check out the full recipe here!
Shrimp Tacos
Taco night does not have to be boring! Shrimp tacos can easily be a weekly staple dish. Just go to your store and buy a large bag of frozen deveined and deshelled shrimp and you are good to go! This dish is very customizable to your liking, too. Try adding tomatoes, corn, avocado, homemade slaw and more! An easy sauce to add, as well, is combining your favorite salsa and a bit of sour cream. Check out the full recipe here!
Looking for more food blogs? Check out our Perfect Morning Routine blog post!